Description Of ThaiVedic Vayu Therapy Online Course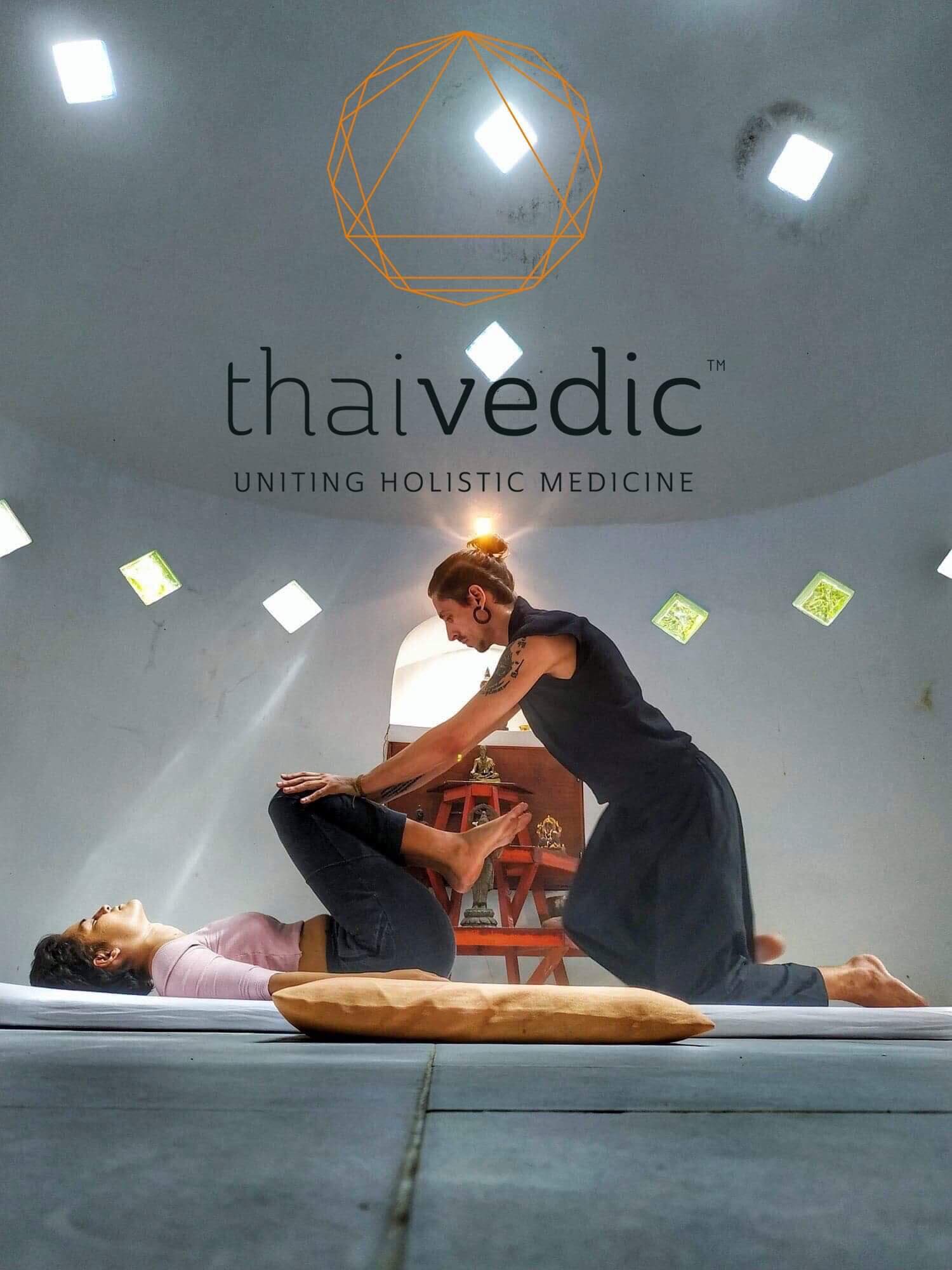 Sebastian Bruno, co-founder of ThaiVedic, guides us on this deeper exploration of the Elements, healing touch, and conscious movement.
​These instructional videos and resources serve as valuable tools for beginners, experts, or those wanting to explore movement and touch prior to joining one of our global certified bodywork trainings.
ABOUT THIS COURSE
Doshas as disease tendencies
Vayus as subdivisions of Vata Dosha
Expanded bodywork techniques categorized into their elemental dominance for ease of individualized healing
A deeper application of therapeutic touch and diagnostic tools
Awareness of touch
Listening to the receiver
Effortless flow and transitions
Five mini bodywork sequences to balance each of the Vayus and treat:

Prana Vayu and Nervous System disorders
Udana Vayu, respiratory imbalances and thoracic posture
Samana Vayu, digestive imbalances and liver disorders
Vyana Vayu, circulation, immune system, and lymphatic imbalances
Apana Vayu, menstrual, urinary, and elimination problems
AT YOUR OWN PACE
Yours to keep
Practice at your own pace
Ideally completed over several weeks (1 Practical Section per week)
Practice section by section until you have mastered each step of the sequence
Revisit sections anytime
Full flow sequence included
INCLUDES
Step by step sequence
Full sequencing Flow
SlideShow Theory Lessons
Downloadable Course manual
Vayu theory
Elemental Theory
Wai Khru Mantra
What you'll learn in ThaiVedic Vayu Therapy Online Course
Example Curriculum
Welcoming Introduction
Introduction to the Vayus
Wai Khru
The Five Vayus
PranThe Five Vayusa Vayu
Udana Vayu
Samana Vayu
Vyana Vayu
Apana Vayu
Full Body Sequencing
Student Manual
About Sebastian Bruno
Sebastian is a student of the Body, Breath, and Movement. These studies brought him into various practices including martial arts, dance, bodywork and traditional healing arts.
For the past 17 years he has been immersed in the learning and practice of Traditional Thai Massage and Thai Medicine; rooted in the Five Element Theory and Buddhist principles of mindfulness, kindness, and compassion; studying with genuine Masters and lineage holders.
Sebastian is the co-founder of ThaiVedic; an International School of Holistic Healing, drawing wisdom from the traditions of Ayurveda, Traditional Thai Medicine, and Yoga Therapy. Based in Asia for the last 14 years, Sebastian travels around the world sharing his practice through sessions, classes, and workshops.
More courses from the same author: Sebastian Bruno
DELIVERY POLICY:
When will I receive my course?
You will receive a link to download your course immediately or within 1 to 21 days. It depends on the product you buy, so please read the short description of the product carefully before making a purchase.
How is my course delivered?
We share courses through Google Drive, so once your order is complete, you'll receive an invitation to view the course in your email.
To avoid any delay in delivery, please provide an Gmail and enter your email address correctly in the Checkout Page.
In case you submit a wrong email address, please contact us to resend the course to the correct email.
How do I check status of my order?
Please log in to HealingCourse account then go to Order Page. You will find all your orders includes number, date, status and total price.
If the status is Processing: Your course is being uploaded. Please be patient and wait for us to complete your order. If your order has multiple courses and one of them has not been updated with the download link, the status of the order is also Processing.
If the status is Completed: Your course is ready for immediate download. Click "VIEW" to view details and download the course.
Where can I find my course?
Once your order is complete, a link to download the course will automatically be sent to your email.
You can also get the download link by logging into your HealingCourse account then going to Downloads Page.
You may also like: