Description Of Teaches The Runner's Mindset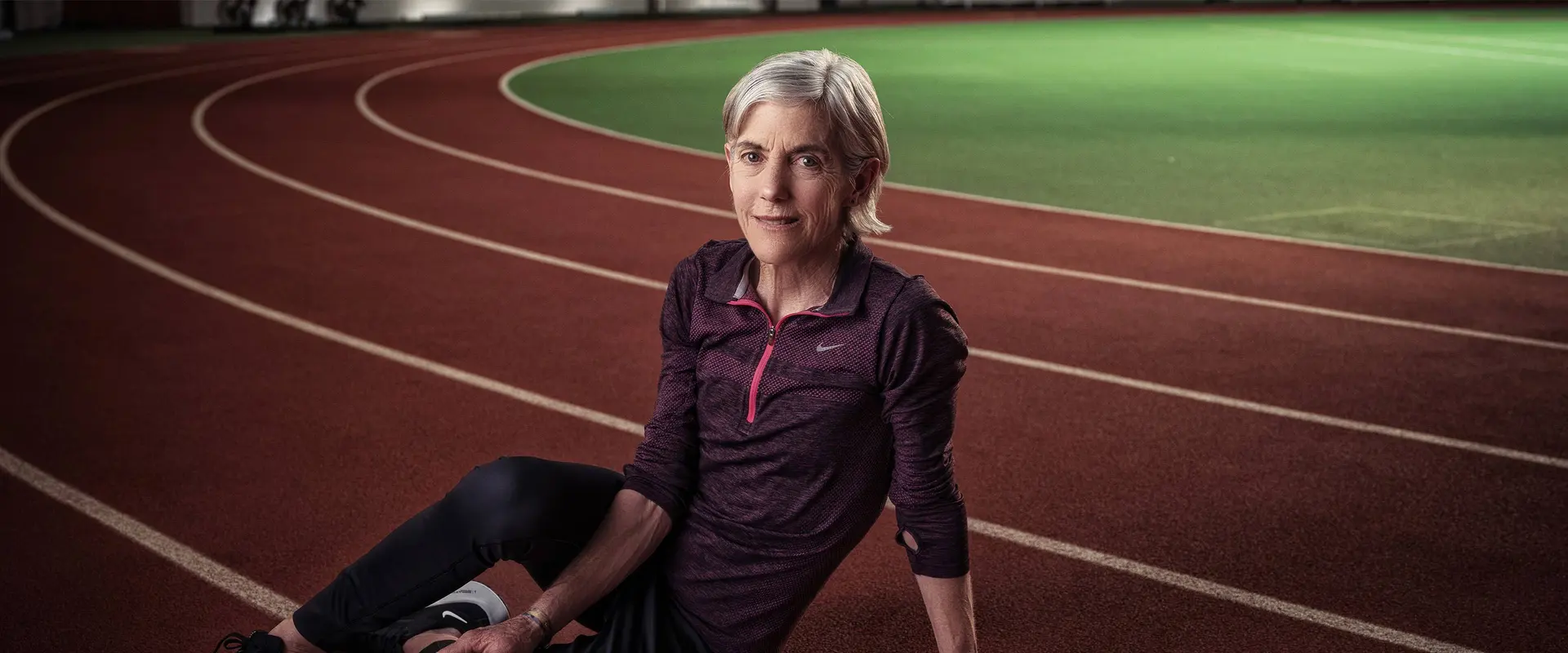 Long-distance legend Joan Benoit Samuelson teaches her personal approach to running so you can go further in running and in life.
Winner of the very first women's Olympic marathon, Joan Benoit Samuelson has spent her life breaking records and paving the way for female runners around the world. Now she's teaching her personal philosophy and approach to running. Whether you're an experienced runner or have been thinking about getting started, you'll learn how to get motivated, set goals, and achieve victory in running and in life.
What you'll learn in Teaches The Runner's Mindset
Class Trailer
Class Sample
Browse Lesson Plan
1. Meet Your Instructor
Decorated marathoner Joan Benoit Samuelson welcomes you to her class, tells you what it covers, and shares her inspiring story of how she went from dark horse to gold medalist in the first women's Olympic Games marathon.
2. Your First Steps
Joan helps you identify your motivation for running and how to harness it. She also provides tips for how and where to purchase the proper pair of shoes and discusses the benefits of logging minutes as opposed to miles as a marker of success.
3. Starting Line
This lesson is about the 1972 Title IX legislation, which was signed into law while Joan was in high school. She shares the personal stories that took her—a natural and passionate runner—from rural New England roads all the way to the Olympics.
4. Goal Setting
Joan explains her personal goal-setting framework, outlining how setting a "pie in the sky" goal, breaking it down into short-term goals, and then using micro goals can help you achieve anything.
5. Balancing the Runner's Mind
Joan outlines the importance of, and techniques for, finding balance in your life. She talks about overcoming self-doubt and negative thoughts, and empowers you to listen to your own body in deciding when to take time off.
6. Running Equipment and Environment
Joan highlights the accessibility of running: All you need is a pair of shoes. She discusses equipment selection and breaks down all types of running environments and how they can impact a run.
7. Running Techniques
In this lesson, Joan shows you how to identify and embrace your natural running style. She discusses breathing techniques, maximizing your stride, and getting the most from your arm movement.
8. Stretches and Strength Training
Joan demonstrates a set of stretches and strengthening exercises, and then walks you through the steps to creating your own routine.
9. Case Study: Your First Marathon
In this lesson, Joan gives guidance on implementing a three-month training schedule to prepare for your first marathon while demystifying race day, from when to check in to where to stand in the pack.
10. Navigating Injury
Joan teaches her personal method for navigating injury, shares stories of her own injuries, and proposes ways to continue advancing as a runner despite injury through a cross-training program.
11. Beyond the Finish Line
To close the class, Joan reflects on how her career as a runner has changed, and perhaps more important, how it hasn't. She inspires members to share their love of running with their families and pay it forward in the running community.
More courses from the same author: Joan Benoit Samuelson
DELIVERY POLICY:
When will I receive my course?
You will receive a link to download your course immediately or within 1 to 21 days. It depends on the product you buy, so please read the short description of the product carefully before making a purchase.
How is my course delivered?
We share courses through Google Drive, so once your order is complete, you'll receive an invitation to view the course in your email.
To avoid any delay in delivery, please provide an Gmail and enter your email address correctly in the Checkout Page.
In case you submit a wrong email address, please contact us to resend the course to the correct email.
How do I check status of my order?
Please log in to HealingCourse account then go to Order Page. You will find all your orders includes number, date, status and total price.
If the status is Processing: Your course is being uploaded. Please be patient and wait for us to complete your order. If your order has multiple courses and one of them has not been updated with the download link, the status of the order is also Processing.
If the status is Completed: Your course is ready for immediate download. Click "VIEW" to view details and download the course.
Where can I find my course?
Once your order is complete, a link to download the course will automatically be sent to your email.
You can also get the download link by logging into your HealingCourse account then going to Downloads Page.
You may also like: