Description of Encore Life Time All Area Access to Simply Laughter Online Summit
Welcome to the Simply Laughter Online Summit Encore 2018
For The First Time EVER!
40+ Experts & Practitioners gather to Empower, Enlighten & Energize you with a Deeper Awareness of how to transform lives through Laughter.
Who is presenting and what are the different steps we cover?
I have hand picked 30+ Laughter Experts who are at the top of their game. Despite their busy schedules they have dedicated time to share this knowledge with you. YAY!
I have also gathered 10+ of my Professional Speaker friends who are Experts in their field to help you learn the top tips that you can adapt to any business.
Three steps we will cover in SIMPLY LAUGHTER ONLINE SUMMIT:
Step 1 Laughter Yoga Practices
See what other laughter professionals around the world are doing to change lives and spread Laughter as a way to live a healthier, happier life.
Step 2 Adaptions of Laughter
Discover how to become niche and come up with your own unique Practice and transformational tools. You can do it!
Step 3 Business Skills Development
Learn how to up your game and improve on all the skills you need to run a productive club. Practice or business?
I have created the course to cover a variety of these Steps every day. You can watch it in sequence or by Expert Speaker and Topic of interest.
What you'll learn in Encore Life Time All Area Access to Simply Laughter Online Summit
Day 1
Jo-Dee Walmsley and Dave Berman – Kick Off
Dr Madan Kataria – Founder of Laughter Yoga (18:16)
Jules Mitchell – Laughter with Kids & Schools (26:27)
Anne Rose Hart – Quantum Play and Joy Retreats (35:46)
Teena Miller – Dialysis Patients & Hospitals (34:31)
Sylvia Baldock – Images & Being Memorable (27:47)
Saana Azzam – Making Money, Doing What You Love (29:08)
Merv Neal – Laughter Quotient – About Laughter Yoga Research
Day 2
Jeffrey Briar – Laughter Clubs
Elva Zhang – Quantum Potential of Joy and Meditation
Luis Gomez – Jails
Ros Ben-Moshe – Laughing at Cancer
Linda Leclerc – Presenting and the Laughter Business
Mary Turner Thomson- Writing, Publishing and Marketing Your Book
Angie Phillips – Designing your Marketing Material
Merv Neal – Laughter Quotient – About Laughter Yoga Research
Michael Dodd – Great Answers to Difficult Questions
Day 3
Julie Ostrow – Improv, Humor and Laughter
Francis Monferrer – Sacred Sexuality and Relationships
James Hazlerig – Laughnosis
George Toscani & Sabina Gerin – AquaLaughter
Janni Goss – Mental Stress, Carers and Golden Ages
Merv Neal – Business: How to Improve Your Laughter Business
Jermaine Edwards – How to Keep Recurring Clients
Albert Nerenberg – Actorcize and Laughology
Day 4
Warren Knight – Harnessing Social Media to find gigs
Dave Berman – Daily Laughers
Diane Kichijitsu – Laughter in Traumatic situations, and on Cruises
Alex Sternick – Gibberish: The Art of Nonsense
Sue Carter Ansari – Lymphatic System, Mental Health and Joyfit
Lotte Mikkelsen – Laughter Training, Laughter Business and the Laughter UK Association
Punam Verma – Interviewing Skills
Mindy Gibbins-Klein – Thoughtful Leadership
Day 5
Sebastien Gentry – Laughter Wellness
Guy Giard – Humanitarian Clowning with Patch Adams
Olivera Radovanovic – Laughter Yoga Tourism
James Taylor – Creativity
Joe Hoare – The Yoga Part of Laughter Yoga
Julie Holmes – Sales and Marketing
QJ – How to Fill Your Workshops
Jo-Dee Walmsley – Closing Talk featuring Robert Rivest & Rohit Bassi
About Jo-Dee Walmsley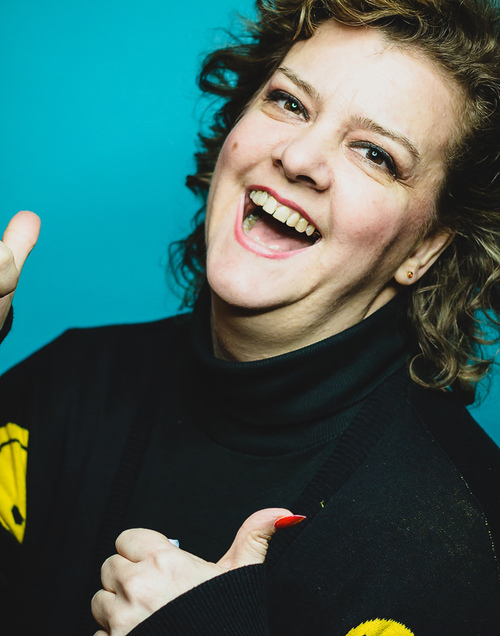 Your Host – Jo-Dee Walmsley, Global Laughter Ambassador
"When the best leader's work is done the people say, 'We did it ourselves.' Lao Tzu
Can laughter liberate the hidden potential of your people to "do it themselves"? Simply, yes!
Jo-Dee Walmsley makes this bold idea real: As an experienced Motivational Speaker and Energizer, Laughter Teacher, she shows the path via her Laughter Program to more rewarding, creative and productive states of mind, perfected in recent years in keynotes and in workshops, tailored to Blue-Chip corporations and many more in Dubai, and is now bringing her unique and vitalizing charisma to the UK and Europe and beyond. Seriously? See for yourself!
'We don't laugh because we are happy, we are happy because we laugh!"
More courses from the same author: Jo-Dee Walmsley