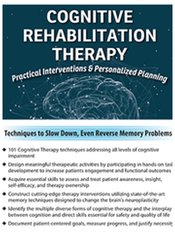 The United States is facing a situation without precedent: more than 16 million people are living with cognitive impairments and the World-Health Organization estimates that the number will increase to over 30 million by the year 2050, with fewer and fewer people available to care for them. Successful cognitive rehabilitation is crucial to improving overall quality of life—for the patient, family, and caregiver.
In this innovative recording, you will receive instruction in 101 evidence-based techniques, strategies and interventions for all levels of cognitive impairment. Whether a patient presents with a mild or severe cognitive impairment, this seminar teaches which approach to take and which avenue of interventions to pursue.
You will be presented with techniques that will change the brain's neuroplasticity, as well as offer compensatory strategies, and/or enhance a patient's procedure memory. This recording emphasizes the importance and effectiveness of creating highly individualized treatment strategies and provides attendees with the needed skills to choose and adapt techniques into tailored, personalized therapy plans. Active case studies will be examined and participants will learn to design a patient profile with therapy interventions and goal documentation.
Compare and contrast the appropriate application of direct, indirect and patient-centered cognitive therapeutic approaches
Determine cutting-edge therapy interventions utilizing state-of the-art memory techniques designed to change the brain's neuroplasticity
Apply "meaning" to everyday therapeutic tasks to increase patient participation, engagement and functional outcomes
Identify patients "Levels of Awareness" and their self-efficacy level, discussing treatment techniques that facilitate acceptance and outcomes
Discuss how medications can be utilized as a direct therapeutic intervention for degenerative neurological diseases
Explain how to document patient-centered goals, measure progress, and justify medical necessity
CRUCIAL ELEMENTS FOR TREATING THE COGNITIVELY IMPAIRED
IDENTIFICATION AND TREATMEMT OF:
Self-Awareness: Diagnose levels of, and treatment for patient awareness/insight and acceptance
Self-Efficacy: Identify four major sources to increase patients self-belief
Ownership: Interventions to increase patient participation and engagement
Meaningful Therapy Theory: Making therapy personal!
Patient self-rating scales
COGNITIVE THERAPEUTIC APPROACHES
Direct therapy
Indirect therapy
Patient-centered
NEUROSCIENCE APPROACHES TO THE MEMORY SYSTEMS
Declarative/Explicit/Conscious
Non-Declarative/Implicit/Unconscious
Work within the correct memory system for diagnoses
MEDICARE COMPLIANCE/MEDICAL NECESSITY/GOAL WRITING/DAILY DOCUMENTATION
Components of a defensible, skilled goal
Daily skilled terminology
Measuring progress and justifying medical necessity
CHANGING NEUROPLASTICITY
Direct Therapeutic Intervention for High-Level Cognitive Impairment

Attention Systems: Essential for learning

Selective Attention
Focused Attention
Sustained Attention
Divided Attention
Directed Attention
Shifting Attention

Visual Processing Systems and How to Maintain Them
Visual Cognition
Visual Memory
Pattern Recognition
Scanning
Visual Attention
Oculomotor Skills
Visual Fields
Visual Acuity

Information Processing Systems:

Relating them to function
Processing Speed
Processing Control
Processing Capacity

Memory Interventions for Neuroplasticity Changes in the Brain

Method of Loci
Visual Imagery
Chunking
Association
Mental Organization
Linking
Elaboration

Memory Interventions for Compensation Interventions

Acronyms, Acrostics
Rhymes, Rhythms, Rote
Rehearsal and Curve of Forgetting
DIRECT THERAPEUTIC INTERVENTIONS FOR DEGENERATIVE NEUROLOGICAL DISEASES/DEMENTIA
Spaced Retrieval Therapy
Errorless Learning Techniques
Montessori-Based Therapy
Ability-Based Approaches/Therapy
Reminiscence Therapy
Memory Books/Aids
Allen Cognitive Techniques
Medications
DIRECT THERAPEUTIC INTEVENTIONS FOR PATIENT COMMUNICATION
Validation Therapy
Redirecting Therapy
Reflective Listening
INTERACTIVE CASE STUDIES
More courses from the same author: Jane Yakel