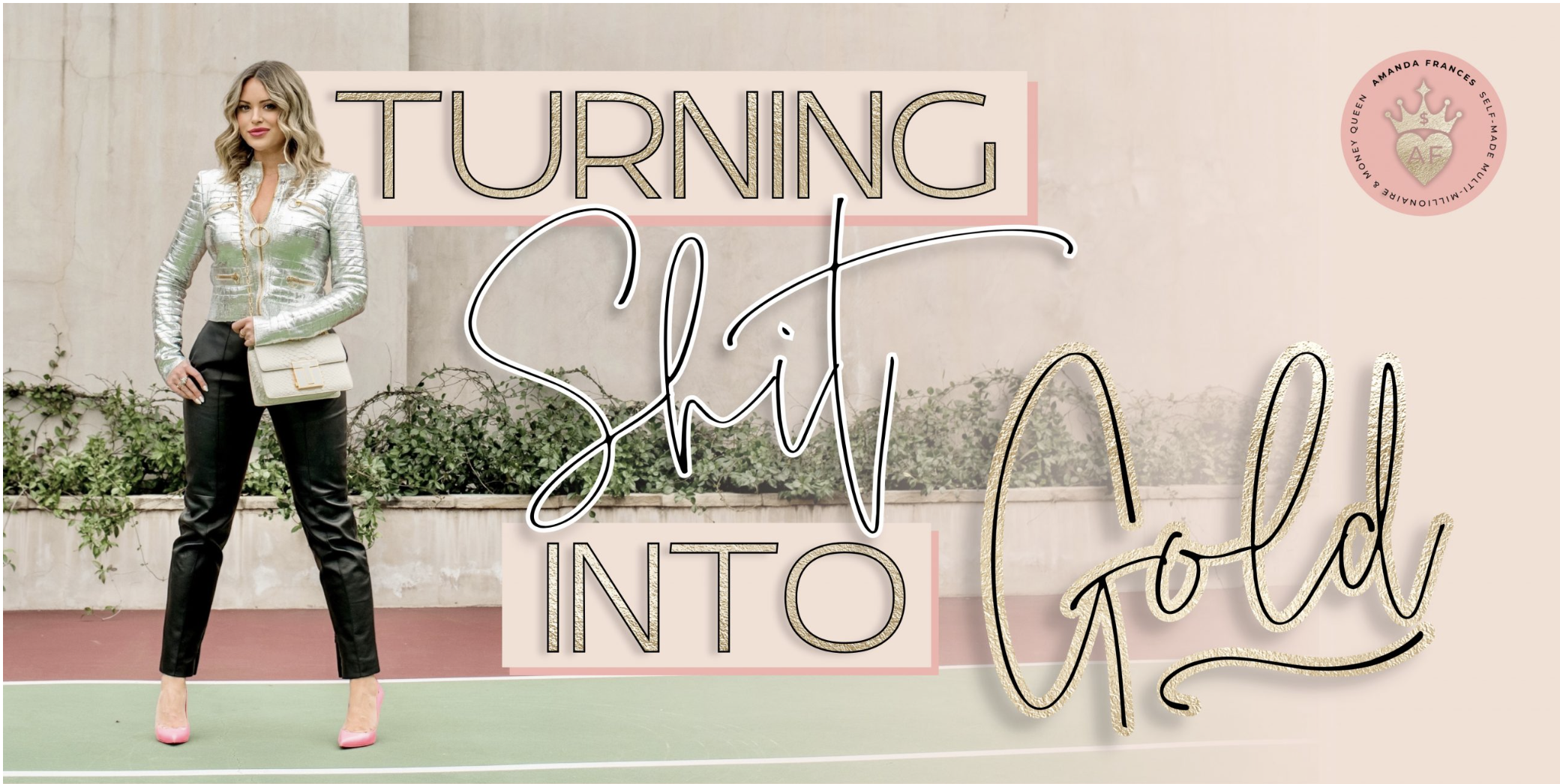 How to take any sh*tty situation, in any area of life and transform it to be used for fuel for your ultimate good. Settle for nothing. Set your standards. Let life rearrange around you.
Let's turn sh*t into gold
If we experience frustrations, aggravation and a lack of harmony inside of ourselves and in our relationships with others…
We need a new foundation.
We need a new way of seeing, doing and handling the seemingly bad, negative and unfortunate parts of life.
We need to know how to take any situation and transform it in a way that liberates us and excites us.
We need to know how to direct your sh*t into fuel for our mission, our purpose, our intentions and our lives.
There is so much freedom and joy in knowing that you can change, transform and rearrange any situation.
This is a whole new world — a whole new way of doing things.
You will love it. And you will never be the same.
What You'll Learn In Turning Shit Into Gold
Module 1: Alchemy
Includes my unique process for the transformation of messy, unfortunate and/or painful situations. The forgiving and releasing of others, how to process the pain and neutralize the energy of any situation. How to hold and share about your experiences in ways this is healing for you and helpful to others (without dumping your sh*t into on to people in an energetically messy way).
Realigning your intention to love and serve amidst chaos. Using it all to contribute to the healing of all, always. Positioning yourself as you want to be seen intentionally no matter what is occurring around you. And, how to turn anything and everything into your ultimate good. Every time.
Module 2: Love & Relationships
Module two is made up of three videos. It is 2.5 hours long.
What does it mean to finally allow in everything you want in the world of love, dating, and romantic relationships?
Let's look at how you show up in this area and what it creates for you. Let's identify patterns, observe the pain, acknowledge our part, see where we have work to do, and allow ourselves to finally let love in. This applies whether you are currently single or committed. And whether you are currently seeking a relationship or not. This is about healing, accepting, growing, and being love.
Inside of it I tell my story – a story that I've never told before – of how I absolutely destroyed a relationship with my unhealed open, gaping wounds and unprocessed pain, how I got to the root of it, moved through it all, called in the love of my life, and now have a wildly happy, supportive, loving, and understanding relationship.
In this module I share everything that I have learned about love and relationships. (This applies whether traditional gender roles apply to your relationship or not.) This is a full, incredible life-changing module. People LOVE this one.
Module 3: Business & Career
There is the potential for sh*t in business and career, but it does not have to overwhelm or get the best of us. We can know what to do with it. In my company, we don't get consumed by the industry rules or get caught by the bullsh*t of the spaces we work in — from media, to coaching, to online education, to real estate, to digital marketing: We stand above it all. Intentionally. We stand for integrity, profitability, and love. Always.
I own, run, and lead a company that feels good, operates by massive flow, makes money continually, and is a very happy place to work — for me and for everyone who supports me.
There is so much opportunity for sh*t when you're growing a business or expanding in your career. From having your work copied, to being harassed by internet trolls, to being passed up for a position or role in a way that feels shockingly unfair. It's easy to start to believe that this is simply how your business, industry, or workplace… is. But it doesn't have to be.
We can live, work and operate at a standard of gold.
We can turn it all around.
We can defy all odds.
And our bank account, the quality of our lives, and our internal happiness can reflect this.
This is about understanding the energy and mindset that creates this kind of environment and making it all whatever we choose it to be.
Module 4: Family & Children
You know that belief that says you can't be a good mother and successful? F*ck that.
What about the one that says women do more than men around the house? Not here for it.
What about the one that says moms have to be exhausted all of the time? Hell f*cking no.
What about the obligation you feel toward your parents? Let's remove that.
Or the idea that you owe something to someone in your family? Let's release the dysfunctional patterns of loyalty… for good.
This isn't about forcing or manipulating your parents, children, or partner into being something they are not. This is about deciding what you stand for and letting your whole world rearrange around it.
Module 5: Boundaries
We need boundaries. We need to know how to say a firm no. We need to know how to respect ourselves. We need to be comfortable with people being mad at us. We need to know when we are complete with a person, dynamic, relationship or role that is not working for us.
We need energetic boundaries. And, sometimes, we need spoken boundaries.
And we need it in every area of our lives to support us in creating the harmony we desire.
About Amanda Frances
Amanda Frances is a world-renowned thought leader on financial empowerment for women.
Through her wildly popular digital courses, her best selling book "Rich as F*ck," highly engaging online presence, her "And She Rises" podcast, and free daily content, meditations and trainings distributed across her social media channels daily… she empowers women to design lives and businesses they are wildly obsessed with.
She has written for Forbes, Business Insider, Glamour, Cosmopolitan and Success Magazine.
She has been featured in Entrepreneur, Flaunt, US Weekly, ET, and others.
Combining her background in ministry and mental health counseling with practical advice and a deep knowledge of spiritual and energetic principles, Amanda isn't quite like any other "coach" you've encountered.
A true self-made woman, while putting herself through graduate school Amanda taught herself how to build her first website.
A decade later, Amanda Frances Inc. is an eight-figure global brand serving clients and students in 85 countries.
Her mission has always been to get the power of money into the hands of good hearted women who are here to change the world. Today, she is doing so.
Amanda is from Sand Springs, Oklahoma and currently resides in Los Angeles, California.
More courses from the same author: Amanda Frances
DELIVERY POLICY:
When will I receive my course?
You will receive a link to download your course immediately or within 1 to 21 days. It depends on the product you buy, so please read the short description of the product carefully before making a purchase.
How is my course delivered?
We share courses through Google Drive, so once your order is complete, you'll receive an invitation to view the course in your email.
To avoid any delay in delivery, please provide an Gmail and enter your email address correctly in the Checkout Page.
In case you submit a wrong email address, please contact us to resend the course to the correct email.
How do I check status of my order?
Please log in to HealingCourse account then go to Order Page. You will find all your orders includes number, date, status and total price.
If the status is Processing: Your course is being uploaded. Please be patient and wait for us to complete your order. If your order has multiple courses and one of them has not been updated with the download link, the status of the order is also Processing.
If the status is Completed: Your course is ready for immediate download. Click "VIEW" to view details and download the course.
Where can I find my course?
Once your order is complete, a link to download the course will automatically be sent to your email.
You can also get the download link by logging into your HealingCourse account then going to Downloads Page.
You may also like: