What if you could design your ideal life and have the tools to turn that life into a reality?
Whether it's discovering your purpose, doing what you love, making a positive impact, or simply creating a beautiful, fun and fulfilling life—you can totally do it.
You are the artist of your life. You have the power to create your dream life.
Hey love, does any of this sound familiar?
Lost, confused, stuck. You seriously have no idea what you're meant to do with your life. This is eating you from the inside out, because you usually like to have a plan and have your next steps figured out.
Frustrated because you don't know where to start. You're typically an ambitious person, but your lack of direction is holding you back. You know you're meant for big things in life, but you're not sure what those big things are.
Anxious about everything: the uncertainty of the future, not having control over your life, comparing yourself to your peers. You're not as confident as you'd like to be, and sometimes have trouble fully believing in yourself.
Unsure of how to connect the dots between your dreams and your reality. You want to achieve your dreams, but you have so many questions: How do I overcome my fears? How do I commit without quitting? How do I make a living? You need detailed guidance to help get you there.
Craving meaning and fulfillment. You don't want to live life on the surface, you want to live life fully and deeply. You're not here to settle for mediocre. You want to make a difference in the world. You want to do something that matters.
Ready to level up in life. You're sick of being stuck where you are and you're ready to build a better mindset, better habits, and a better life for yourself. You're ready to do something different, in order to achieve different results.
Now, imagine how it would feel if you could…
Wake up inspired and excited for your day, knowing that you're doing what you're meant to be doing.
Live a happy and successful life on your terms, aligned to your values, your purpose and your soul.
Overcome your fears and limiting beliefs, with the confidence to handle anything life throws your way.
Make a positive impact on the world, utilizing your talents, gifts and strengths to contribute to something bigger than yourself.
Introducing: Create Your Dream Life
Create Your Dream Life is a six-week step-by-step course designed to help you discover your true potential, release your fears, and make your dream life a reality.
Here's what you'll get with the course:
Access to six video lesson modules (actual filmed videos of your instructor—not narrated slide presentations, with optional captions in English)
Interactive downloadable workbooks & printable PDF resources
50+ actionable exercises and journaling prompts
Membership into the exclusive Create Your Dream Life Community Facebook group
Access to three pre-recorded Q&A sessions with Aileen (recorded during the live run of the course – June/July 2019)
BONUSES: Two bonus workshops made specifically for the Create Your Dream Life course & a positive affirmations audio download
I had to figure it out the hard (& slow) way…
In college, I was really lost and struggled with figuring out what to do with my life. I wanted to do "big things," but had no idea what that looked like or how to make it happen.
I tried out multiple internships, but never felt like I "fit" with any of them. I couldn't see myself working in an office setting where my talents and strengths weren't being fully utilized.
During my senior year, I started to get really depressed, unmotivated and frustrated. I was mad at myself, too, because I had always done well in school. Why couldn't I figure this out?
Meanwhile, my peers were getting cushy jobs right out of school and the pressure from family and society to "get a good job" was getting heavier and heavier. I felt like such a failure.
Still, I knew that if I took the "safe" route by getting a job I disliked, I'd end up hating my life. Deep down, I knew I couldn't settle.
After graduation, I took a chance and started following my heart to whatever opportunities felt right to me. I decided to let my life unfold, taking a leap of faith into the unknown.
It wasn't easy. And I didn't make much money for a while. But as uncertain and scrappy as the journey was, I loved it.
For the first time in my life, I was listening to my inner voice, getting out of my comfort zone, learning how to be an artist, and carving my path as a creative in this world.
It's been 7 years since I made that leap, and since then I've been led through an amazing and fulfilling creative journey that I could have never planned for myself: from releasing an album to acting and producing short films, to speaking at TEDxYouth and Stanford University, launching the Artist of Life Workbook and building a community of over 1.35 million subscribers on YouTube. I traveled to 28 countries, read over 75 books on personal development, spirituality and creativity, interviewed over 150 guests on my podcast, and shared my insights and lessons with millions of people online. One by one, I witnessed my dreams become my reality. It's an incredible feeling.
Ultimately, I learned how to create a life that I absolutely love, one that allows me to be financially free, and feels 100% aligned to my soul and purpose on this earth. I've learned so much about how to lead a happier, more successful and more meaningful life.
This is the beautiful realization I want for you—to uncover the amazing life that is meant for you. To help you make your dream life a reality, too.
The best part is, you'll get all of my 7+ years of experience in personal growth and lifestyle design distilled down to a structured step-by-step course.
All of my messy mistakes, years of trial-and-error, DIY journal prompts and exercises that have helped my journey are now thoughtfully organized and curated for YOU.
All you have to do is start.
This is the program I wish I had when I was 21 and desperately lost with my life. I didn't have it then, but now I've created it for you, so you don't have to go it alone.
So tell me, are you ready to create your dream life?
Create Your Dream Life is a six-week interactive program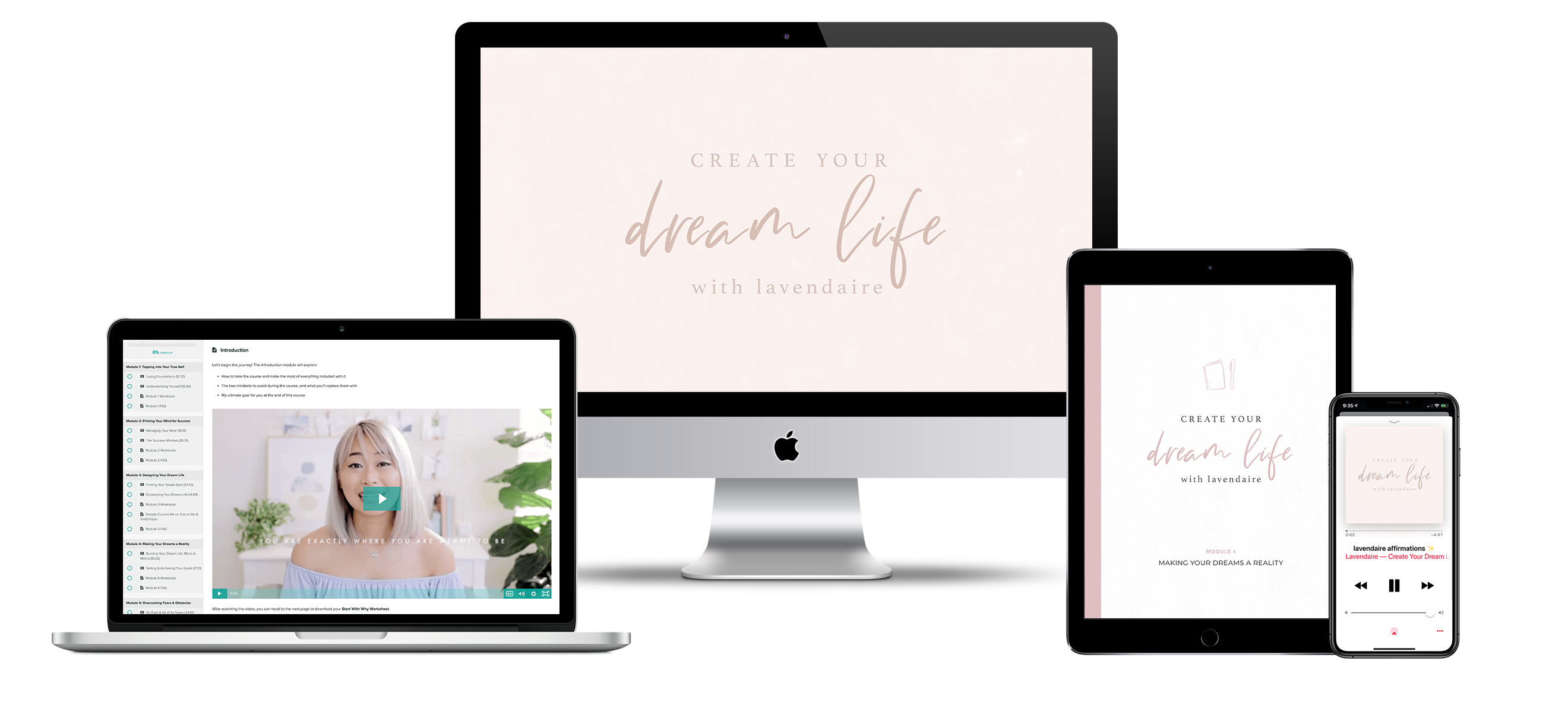 Designed to give you the tools to bring every aspect of your dream life closer to becoming a reality, here's what you can expect to explore each week:
Module 1 – TAPPING INTO YOUR TRUE SELF
What it looks like to live in 'flow' and why that should be your goal
How to figure out what truly matters to you, instead of what you're told should matter to you
Ways to find your Why, the drive that will keep you going when you feel like giving up
Module 2 – PRIMING YOUR MIND FOR SUCCESS
How to unlearn and remove the mindsets, beliefs, and habits that have been holding you back
The one mindset shift you must make that will change everything
Diving deep into building the mindsets for lifelong success and growth
Module 3 – DESIGNING YOUR DREAM LIFE
A method for finding and attracting the career you love vs. just settling for one you don't hate
What to do if you have multiple passions and you're afraid of picking the wrong one
How to follow your passion while still being realistic about paying the bills
Module 4 – MAKING YOUR DREAMS A REALITY
Ways to break your dreams down into manageable actions, from daily habits to big life decisions
How to organize your priorities and make an easy-to-follow plan of action
What to do when you have everything planned out but just can't seem to actually start
Module 5 – OVERCOMING FEARS & OBSTACLES
How to stop letting fear get in the way between you and your dreams
A powerful exercise for addressing and overcoming all types of fears: fear of failure, fear of judgment, fear of success, and more.
Ways to beat procrastination, perfectionism, and the inevitable comparison traps
Module 6 – PREPARING FOR A BEAUTIFUL JOURNEY
How to stay committed to your goals and build up consistency in your daily habits
Strategies for when things don't go as planned & how to find motivation again
How to avoid burnout and actually enjoy your dream life journey
More courses from the same author: Aileen & Lavendaire
DELIVERY POLICY:
When will I receive my course?
You will receive a link to download your course immediately or within 1 to 21 days. It depends on the product you buy, so please read the short description of the product carefully before making a purchase.
How is my course delivered?
We share courses through Google Drive, so once your order is complete, you'll receive an invitation to view the course in your email.
To avoid any delay in delivery, please provide an Gmail and enter your email address correctly in the Checkout Page.
In case you submit a wrong email address, please contact us to resend the course to the correct email.
How do I check status of my order?
Please log in to HealingCourse account then go to Order Page. You will find all your orders includes number, date, status and total price.
If the status is Processing: Your course is being uploaded. Please be patient and wait for us to complete your order. If your order has multiple courses and one of them has not been updated with the download link, the status of the order is also Processing.
If the status is Completed: Your course is ready for immediate download. Click "VIEW" to view details and download the course.
Where can I find my course?
Once your order is complete, a link to download the course will automatically be sent to your email.
You can also get the download link by logging into your HealingCourse account then going to Downloads Page.
You may also like: